By info@brooklynstreetart.com (Jaime Rojo & Steven Harrington)

Trucks 4 Ton Marble Sculpture into Square with Crowd Watching
The Prime Minister and his cabinet have quit and the freezing crowds are still demanding the resignation of President Viktor Yanukovych. Here in sub-zero Independence Square amidst the Molotov cocktails and burning tires appears a "New Ukraine," thanks to the just carved sculpture of the same name. Street Artist Roti channeled his rebellious graffiti ethos into this project featuring the image of a Ukrainian woman emerging from the depths. He hopes to inspire the demonstrators who have been mobilized for two months plus.
Inflamed since their presidents' sudden withdrawal from a trade agreement with the European Union (EU) in November, most say the real oxygen that is feeding this populist fire is disgust with a political class that became corrupt. With this unsanctioned gift of public art Roti examines and tests the ambiguous nature of illegality that also possesses beauty, claiming public space for a rippling people's movement that now looks like a revolution.
"New Ukraine" by Roti (photo © Chris Cunningham)
Writer, scholar, and occasional BSA contributor, Alex Parrish was perfectly placed in Kiev this winter to see the uprisings swell and to witness the carving out of this now historical public sculpture by Roti, as well as its placement. We are pleased that she shares with us today an essay that provides context and background for Roti's gift to The Euromaiden (Євромайдан, #EuroMaiden #EuroMaidan) and to the related events.
Roti's "New Ukraine"
by Alexandra Parrish
"Throughout history, art has served as a representation of religious, cultural, political and social movements," remarks Roti, the 25-year-old artist cum laude. Today, while many artists seemingly work for the market alone, others continue to negotiate the relationship of art to society. French artist Roti is certainly moving towards his own interpretation of such, particularly after the installation of his two-metre sculpture titled "New Ukraine" in the centre of Kyiv to express his solidarity with the current revolution underway.

Roti at work in his studio. (photo © Chris Cunningham)
By trade, Roti is a stonecutter specialized in sculpture; in a separate pursuit, he's negotiated illegality in public space via graffiti for the past decade. An artist in all regard, Roti's surreal work depicts the spiritual realm, the intangible realities that exist in the mind. He's found much success with his style, which has allowed him to travel with his work to New York, Atlanta, Paris and London.
However, it was his trip to Ukraine for the Gogol fest back in September of 2013 that sparked an intense appreciation and curiosity about the spirit of the art scene underway, predominately in the capital city of Kyiv. He spent a month deep within the community of artists who have "built beauty out of nothing;" in this experience, he learned how the individual could be a part of a collective. He promised to return, one day.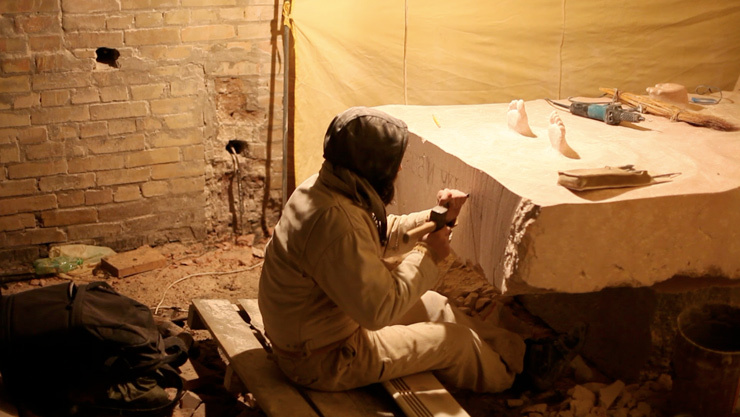 Roti at work in his studio. (screen shot from a yet to be released film © Chris Cunningham)
In late November of …read more
Source: More Celeb News1