Roman Turovsky, Stadt 46 (2010), oil on linen, 24 x 36 inches
This is the second of a series of interviews that focus on Local 829's Scenic Artists, the "Behind the Scenes" talents who sculpt and paint in a variety of ways, the sets we see on television and in movies and documentaries, on theater stages and in the backgrounds of television and internet commercials.
I first met Roman Turovsky a few years ago while working on the set of Law and Order: SVU. I was impressed with his scenic art skills and knowledge and later found out that he was a prolific figurative artist as well as a musician as he had already compiled an impressive legacy of performances and musical compositions for the Baroque lute and the torban, as well as the viola de gamba and carillon. I don't profess to know much about such things as the Baroque Lute, but I do know when I see a substantial painter and draftsman and Turovsky is one.
Turovsky, who was born in 1961 in Kiev, Ukraine, emigrated with his family to New York City, making a brief stop in Rome, in 1979. I recently had the opportunity to ask Turovsky a few questions about his art.

Artist Mikhail Turovsky, father of Roman Turoksy, standing in front of his oil on canvas, Last Supper (2002), oil on canvas, 36 x 144 inches, Chelsea Art Museum, photo by Janusz Kawa (2005)
DDL: Growing up with a formidable artist in the house, your father Mikhail Turovsky, must have had a profound influence on you. The first thing one will notice looking at your work is the strong structural form you assign to your subject matter whether it's a life study or a landscape. You might call it Dynamic Cubism. Is this approach something you learned from your father?
RT: Yes, and no. I have certainly inherited his principles of spatial organization (along with his high standards). However, my coming of age occurred in this country, and by then I've already abandoned the elliptical old-world self-expression in favor of more linear and angular American ways (and this applies to both visual and literary expressive language).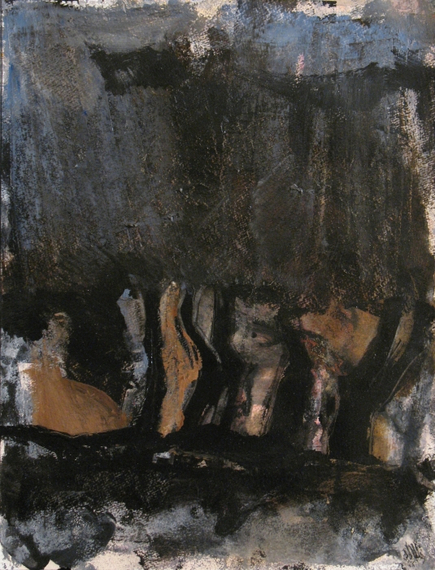 Roman Turovsky, Etude 3 (2003), oil on paper, 24 x 18 inches
DDL: Linear and angular is a very good way to describe the strong dynamics of your art. How would you describe the mood of your figurative works and landscapes?
RT: Their mood is dark. I've always believed that my purpose as an artist (or any artist's for that matter) is to remind the viewer that life and its pleasures are finite. Thus, I transmit this sense of foreboding that inhabits the figurative world for me. When I was a teenager I gave one such cityscape as a gift to my newlywed friends. They hung a banner above it, which read "Say NO to the Neutron Bomb!"
DDL: What, if anything is the root cause …read more
Source: More Celeb News1