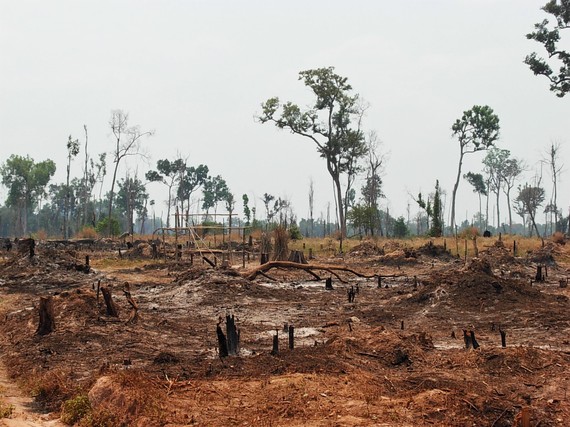 Cambodian press and some environmental groups have largely viewed the national government's creation of a committee to curb an illegal wood trade as a sign of real progress. But upon closer inspection, the federal crackdown may be more of a shakedown.
By

Despite a 1995 ban, logging continues in Cambodia on land designated for agriculture (Anonymous / Forest Trends)
One cause for skepticism is a 2014 agreement that grants Try Pheap – logging baron and previous personal adviser to the prime minister – the exclusive right to buy up wood confiscated by the Cambodian government at below-market prices. Obviously, any scenario in which illegal logs end up simply changing hands from one tycoon to another would remove any illusion of protecting the forests, and would rob the government of much needed revenues.
Environmentalists in Cambodia have for years expressed concern about ties between the country's most prominent logging bosses and Prime Minister Hun Sen. In 2007, when the NGO Global Witness published a report entitled "Cambodia's Family Trees: Illegal logging and the stripping of public assets," the government responded by ordering all copies of the report seized and destroyed. (It had already banned the organization from entering Cambodia after a 2005 report questioned the prime minister's connections to logging.)
As recently as November 2015, the prime minister went to bat for Try Pheap and another tycoon when he publicly denied allegations that the two had illegally logged in a national park along Cambodia's borders with Vietnam and Laos. And soon after the government began its new campaign, The Cambodia Daily reported that one Facebook user found himself embroiled in a defamation lawsuit after posting allegations that the Hun family was complicit in the illicit wood trade.
Another reason to remain wary is the lack of information emerging from these high-profile military raids. Weeks after the formation of the illegal logging committee, we've yet to see any official statement about the outcome of the crackdown – what was confiscated and where. As one skeptical lawmaker put it, "The crackdown is like a storm. It will last only a short period of time and [then] be gone."
Unfortunately, that prophecy seems to be coming true. Latest reports indicate that the raids have yielded only "a handful of low-level arrests." "[Environmental protection groups] say past crackdowns announced by the government have done little, if anything, to curb the trade and remain skeptical that the latest drive will prove different," noted The Cambodia Daily.
Forests covered almost 60% of Cambodia in 2010, but that number is shrinking ("Conversion Timber, Forest Monitoring, and Land-Use Governance in Cambodia")
Misgivings about whether illegal actors would be held accountable were reinforced in recent weeks, when stockpiles of timber in an eastern province were burned in a suspected attempt to destroy evidence of wrongdoing. The Phnom Penh Post cited accusations by local residents linking the wood to businessman Seong Sam …read more
Source: More Fitness