By jody.christopherson@gmail.com (Jody Christopherson)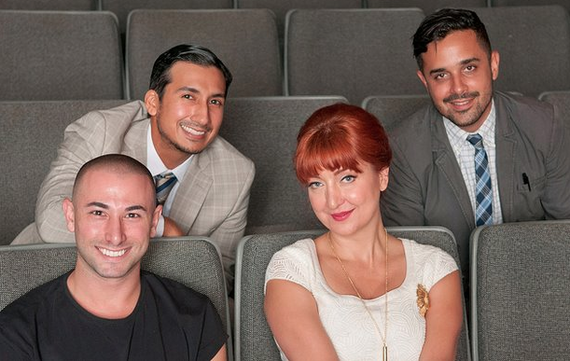 The Founders of Filmgate Miami. Executive Director, Diliana Alexander, pictured lower right.
Many would say that one of the largest differences between film and theater is the way that audiences interact with each medium. Recently films like Her explore individual connection to technology. 3D glasses and the cult classic, Rocky Horror Picture Show, begin to explore the ways in which film can become three dimensional, or interactive. Filmgate Miami is rapidly expanding the concept of interactive film by bringing local and international innovations on this theme to South Florida. Executive Director Diliana Alexander elaborates:
Filmgate's mission is to present interactive films. What is/defines an interactive film and what has been your audience's reaction to attending these events?

An interactive film in our view is one that extends the boundaries of a two dimensional space and spreads into different mediums, all while creating unique and immediate moments for the audience. The audience is permitted and invited to explore beyond the story on display, which creates a more meaningful and personal experience.
The audiences are thrilled because due to the involvement of technology, the experience is customized. One size fits all is no longer acceptable. Their participation or non-participation can influence outcomes, which is incredibly exciting to the audience and to the creator. The experience and the memories become collective.
Tell us about this years unique offerings?
Filmgate Interactive this year offers interactive screenings, interactive exhibits, the Interactive Tech Playground at the Rubell Family Collection, creative workshops and panels. We are thrilled to show the possibilities of interactive storytelling. For example, The Skype Show, created by New York generative artists Greencard Wedding, is a transmedia musical. Its statement about government support of artists in America is disguised by a love story with a happy ending, symbolized by a Friesian wedding cake consumed by the audience. The Lost Children, an immersive live and feature film experience, created by New York story architect Mark Harris, resolves around the familiarization of cult recruitment. The evening begins with an cocktail reception, where you witness the recruitment techniques of a cult. It is followed by an interactive film, which tells the story of Evelyn Hamilton, patron saint of the cult, and her battle against all odds to fulfill her destiny. But this is not an ordinary film. This film reacts to you in real time.
We also wanted to show the possibilities of interactive non fiction with projects coming out of the famous PBS POV Digital hackathons, The Aatsinki Season produced by Murmur , Unknown Spring, directed by Jake Spring and Empire, created by Eline Jongsma and Kel O'Neill. In addition, the National Film Board of Canada will present a version of their experience INSOMNIA, created specifically for Filmgate.
There is so much more, the best place to investigate is our website.
What makes South Florida (Miami and Miami Beach) a good location for experimental film work. What is the film community like?
It is a very unique …read more
Source: More Celeb News1