By Adam B. Vary
Warning: This story contains MAJOR SPOILERS for the Jan. 7 episode of Star Trek: Discovery.
Wilson Cruz on Star Trek: Discovery.
Michael Gibson / CBS
When Wilson Cruz first learned about what was going to happen to his character Dr. Hugh Culber on Sunday's episode of Star Trek: Discovery, he cried.
Playing the recurring role of Dr. Culber had been "a perfect fit" for Cruz, he said, in part because he got to make TV history as one half of the first major same-sex love story on a Star Trek series, along with fellow out actor Anthony Rapp, who is part of the main cast as the persnickety scientist Lt. Paul Stamets. The previous episode had ended on a major cliffhanger — and marked a midseason hiatus for the series, which streams in the US on CBS All Access — and Cruz was eager to learn what was next in store for his character.
Then showrunners Aaron Harberts and Gretchen J. Berg broke the news to Cruz: Culber was going to die.
"It was hard," Cruz told BuzzFeed News. "There were tears."
He's likely not the only one. Culber's death may appear to be the latest in a long and unhappy trend of TV shows killing off their LGBT characters — a creative tic that approached epidemic levels in 2016, popularizing the trope "bury your gays" and sparking major fan outcry.
"I understand why people are upset," said Cruz, who spent two years working as a GLAAD spokesperson. "I am familiar with the problematic tendencies of television shows to do away with their LGBT characters, especially people of color."
But Cruz, Harberts, and Berg all insisted to BuzzFeed News that Culber's death in Discovery will not be another "bury your gays" moment.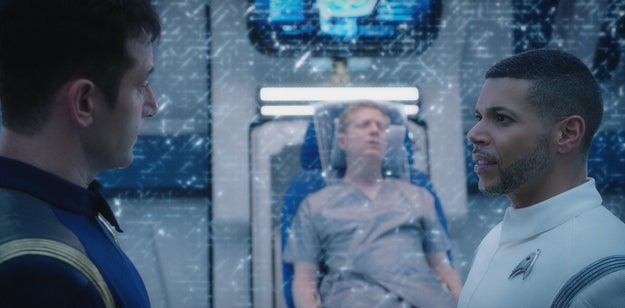 From left: Jason Isaacs, Anthony Rapp, and Cruz on Star Trek: Discovery.
CBS
"I give you my word that this is not what that is," said Cruz. "What's being planned is something we haven't really had an opportunity to see LGBT characters experience. I'm really excited about it."
According to the showrunners, Culber's death will not terminate the character's narrative arc on the show, nor will it be the last time Cruz appears. "This is a beginning, rather than an ending," said Harberts. "We're more than happy to put our gay couple front and center and let them guide the audience on a story of love and loss and redemption and heroism and grief and life and all of those things."
"There is a timelessness and endlessness to how we envision Hugh and Stamets," added Berg. "They're the couple with the epic love story. We knew in order to have an epic love story, you have to have big things happen and have really high stakes."
"We knew in order to have an epic love story, you have to have big things happen and have really high stakes."
The words "epic love story" have scarcely (if ever) been used in reference to previous iterations …read more
Source: Entertainments