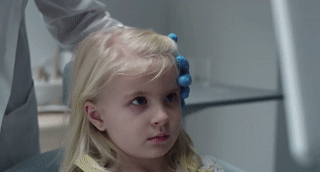 Emergency contraception doesn't work like that! Warning: Some spoilers ahead!
If you've seen the "Arkangel" episode from the new season of Black Mirror, then you know that it's a story of helicopter parenting gone SO FAR off the rails.
A short summary: A mom, Marie (Rosemarie DeWitt), monitors her daughter, Sara (Brenna Harding), through a chip in her head, which she got when she was 3 years old. It allows Marie to monitor (via an iPad-like device) Sara's whereabouts at all times (either by GPS or through Sara's own eyes), as well as monitor her bodily functions and filter out violent and disturbing images (they literally just look like a blur). At 15, Sara has a relationship with another teen, Trick (Owen Teague), and the mother knows her daughter is having sex and experimenting with drugs, and then discovers through the monitoring software that Sara is pregnant.
Netflix
Of course, the internet noticed, and they had some ~thoughts~. For example: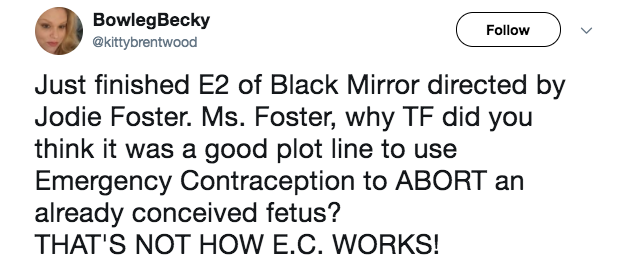 @kittybrentwood / Via Twitter: @kittybrentwood

@MerielJenkins / Via Twitter: @MerielJenkins

@laurenarankin / Via Twitter: @laurenarankin
The truth is that the EC pill only prevents pregnancy if taken before it happens.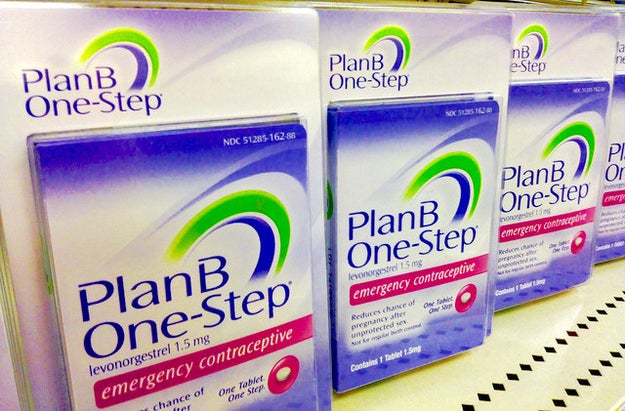 "Maybe in this dystopian future, EC will be something else. But currently, EC is not something that can induce an abortion," Dr. Daniel Grossman, professor of obstetrics and gynecology at the University of California, San Francisco, tells BuzzFeed Health. "It has no effect if you take it once the pregnancy is already established."
EC pills, Plan B One-Step and Ella, are meant to be taken immediately following unprotected sex (for Plan B, no more than 72 hours afterward). They work by delaying ovulation, which prevents the sperm and egg from meeting. "The woman won't get pregnant because the sperm won't hang around for that long," says Grossman.
Mike Mozart / Via flic.kr
In fact, the abortion pill is totally different from the EC pill, and it's tightly regulated.
EC pills are only one medicine — either levonorgestrel or ulipristal acetate. Earlier forms of emergency contraception were in fact regular birth control pills, but at higher doses. (One thing Black Mirror does get right? Emergency contraception can cause nausea, although vomiting is less likely than in the past.) The abortion pill, on the other hand, is actually two medicines (mifepristone and misoprostol) that are taken in a sequence, 24 to 48 hours apart, Grossman says.
The "abortion pill" …read more
Source: Health