By pye1977@gmail.com (Pye Ian)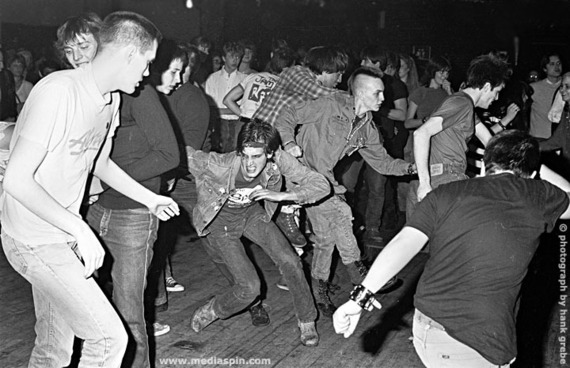 It's not that Martin Scorsese's most recent opus, The Wolf of Wall Street needs yet another review; it's the attempt by the film's star, perennial Scorsese muse Leonardo DiCaprio, to qualify it and Scorsese as "punk rock" that drew our ire and forced our pen.
"Punk rock" (or "punk"), as we 40 and fifty-somethings grew up with it, originally designated the purposeful, near-tactically ugly outsider in culture and society. It connoted a rage against the machine, and the riposte of the caste-less, voiceless and marginalized to the self-appointed Brahmins of music, fashion, literature and other dominant calibrators of the wider Western consumerist-driven Zeitgeist. Punk attitude arguably began with rock n' roll in the 1950s, enjoyed a definitive political period in the mid-1970s as a volatile instrument of class warfare, continually reinvented itself throughout the 1980s as a suburban rite of passage against a Reagan-rechristened corporate America, and returned in the 1990s as grrl bands like Hole, Bikini Kill, Babes in Toyland and Lunachicks fused strategic performances of ugliness with a trenchant send-up of conventional codes of "pretty" femininity and domesticity.
Punk songs were written by refreshingly hideous-looking garage bands with broken instruments and, quite often, at least an initial inability to play music. Punk was egalitarian in spirit, featuring a do-it-yourself aesthetic as a means of exorcising one's externally conditioned demons.
By contrast, WOWS carried a $100 million budget, featured The Most Attractive Actor In Hollywood, had an aggressive marketing effort backing it, and was produced by former investment bankers and a vertically integrated studio that deferred sheepishly to Martin Scorsese as Hutts yielded to Jabba.
Punk songs of the 1970s were purposefully raw and concise as an answer to the hyper-produced seven-plus minute indulgences of such corpulent corporate bands as The Eagles, Pink Floyd, Jethro Tull, Rush and Emerson, Lake & Palmer (E,L&P). The three-hour redundant profligacy of WOWS is more akin cinematically to excesses of the pre-punk period including "Tarkus" by E, L & P, "Inferno" by Metamorfosi and "Starship Trooper" by Yes.
Not only did punk value brevity, it outright rejected the sociopolitical and economic status quo. Openly critical of bourgeois morality and amorality, punk sought to upend dominant cultural values and unsettle the mainstream. Conversely, WOWS proffers a trite, masculinist narrative of rags-to-riches "success" in America. Despite the filmmakers' expression of intent to position the film as "warning," and their defense of its exhausting, relentless imagery as simply a mirror for the soullessness of the characters portrayed, WOWS aims to capture a wide audience precisely by articulating an ejaculatory fantasy of the male moneyed elite.
Plus, the filmmakers themselves are, to an extent, the victims of what they're supposedly warning us about. Scorsese lost all sense of nuance by reliving, via some sort of narrative regression therapy, his own lifestyle in the 1970s, as he attested to French press.1 DiCaprio retains a penchant for playing Jordan Belfort-type deviants, what with his prior work …read more
Source: More Celeb News1