By janeharr@bway.net (Jane Harris)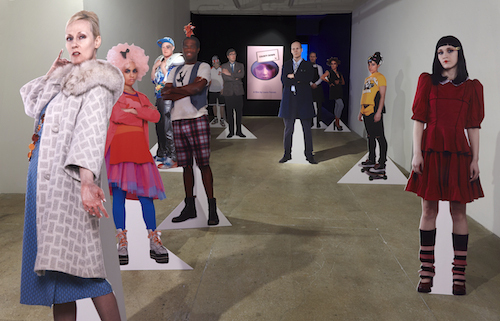 "We all live in a prison. Most of us don't know we live in a prison." Janey, from Blood and Guts in High School by Kathy Acker, 1978
Twenty years ago when Marcia Tucker, founder and (then) director or The New Museum, organized Bad Girls (Part 1), she wrote of artists "using a delicious and outrageous sense of humor to make sure not only that everyone gets it, but to really give it to them as well. That's what we mean by 'bad girls.'" Of all the artists I know working today from such a critical position, few have as effectively underscored the transgressive nature of humor in their work as Laura Parnes has. It helps, of course, that's she's a wickedly funny person with a pitch-perfect sense of comedic timing, gleefully willing to subvert the sanctity of art as well as the institutions that circumscribe its production.
Conjuring Julia Kristeva's notion of the abject, "what disturbs identity, system, order….What does not respect borders, positions, rules", Parnes creates a willful ambivalence in her work through terse, non-linear narratives that blur the line between film and video art. Sometimes she puts the viewer in her sights right alongside the more obvious targets – pop culture, suburbia, female stereotypes, history and the anxiety of influence, etc. — as the question of our complicity, where it begins, and where it ends, is a constant subtext. Even her installations, which reassemble her production sets such that the viewer must physically enter them in order to access the work, engender this complicity.
Laura Parnes, Installation shot from County Down, 2012, Courtesy of the artist and Fitzroy Gallery.
Whether she's taking on existing narratives like Kathy Acker's punk classic, Blood & Guts in High School, 1978, and Mike Kelly and Paul McCarthy's infamous work, Heidi, 1992, the latter in collaboration with Sue de Beer, or inventing her own brand of sci-fi tragicomedy wherein prison life and gated communities become petri dishes for psychotic behavior, issues of gender and authorship prevail. Above all else though, its the humor in these works, and the grrlitude that make them so engrossing.
I sat down with Parnes to talk about her work, and its various themes, hoping to get at some of her intentions.

Laura Parnes, No Is Yes, 1998, C-Print, Camera by Laure Leber, Courtesy the artist and Fitzroy Gallery.
JH: The bad girl/teen rebel seems to be a leitmotif, one you simultaneously lampoon through caricature and herald by alluding to its potential. Why do you think this is?
LP: I'm interested in the teenager as an outsider or a symbol of rebellion. There is the romantic vision of the teen peering in on a culture they haven't really personally participated in. This holds potential for criticality but is often tempered by a desire to gain status, power, agency. In Catcher in the Rye, Holden Caulfield is horrified at the hypocrisy of the adult world. Fueled by the cultural ambivalence towards the adolescent female, my teen …read more
Source: More Celeb News1