By GEOHEYMONT@aol.com (George Heymont)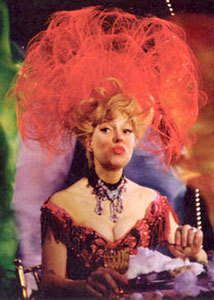 Prior to Louis Armstrong releasing his hit recording of a troubled new musical's big song, the working title for Hello, Dolly! was a bit longer. During a period when musicals were experimenting with extra-long names that could fill up any marquee (such as 1961's How to Succeed in Business Without Really Trying or 1962's A Funny Thing Happened on the Way to the Forum), the working title for Jerry Herman's new show was Dolly: A Damned Exasperating Woman.
Carol Channing as Dolly Gallagher Levi
Not every woman makes a career out of coming down a staircase in a bejeweled red gown, dancing with a restaurant's wait staff, and eating fake potato dumplings (made from spun sugar) as a means of getting laughs while snaring herself a wealthy second husband.
Nevertheless, history and literature are filled with stories of women whose determination to do things their own way knew no bounds. From Joan of Arc, Eleanor of Aquitaine, Harriet Tubman, and Florence Foster Jenkins to Bella Abzug, Molly Ivins, Eve Ensler, and Elizabeth Warren; from Rosa Parks, Cindy Sheehan, Martha Mitchell, and Hillary Clinton to Golda Meir, Gloria Steinem, Nancy Pelosi, and Wendy Davis, many a woman has bucked male authority figures, set out to conquer immense personal obstacles, and managed to take control of her life.
Last year, two small Berkeley theatre companies presented riveting dramas whose protagonists were fiercely determined women with clearly defined goals. Each of these companies can lay claim to more than two decades of bringing gripping theatrical challenges to their audiences.
* * * * * * * * * *
Linda McLean's searing drama, strangers, babies, leaves little doubt that something is off-kilter about its protagonist, a seemingly healthy woman named May (Danielle Levin) who, at first glance, is having trouble reining in her maternal instincts over an injured bird. As her husband, Dan (Cole Alexander Smith), tries to relax and read the newspaper on their patio, May remains utterly fixated on whether or not the bird requires veterinary help and how she might be able to nurse it back to health.
As McLean's play progresses, the audience witnesses May interact with a series of men whose approval (or disgust) she craves but is unlikely to receive. While visiting her elderly father (a dying, abusive man lying in a hospital bed who has no interest in being cheered up by his daughter), she is confronted with a bitter old man who has never forgiven May for a childhood transgression that left their family — and especially Duncan (Richard Louis James) — living under a cloud of lifelong humiliation.

May (Danielle Levin) visits her dying father, Duncan (Richard Louis
James) in a scene from strangers, babies (Photo by: Pak Han)
A brief tryst with a stranger with whom she discussed violent sex in a chat room finds May trying to manipulate Roy (Tim Redmond) into hurting her. Whether May is interested in experiencing an orgasm by way of submission, erotic asphyxiation, or just needs someone to mercilessly inflict pain on her, …read more
Source: More Celeb News1