By ballettothepeople@gmail.com (Carla Escoda)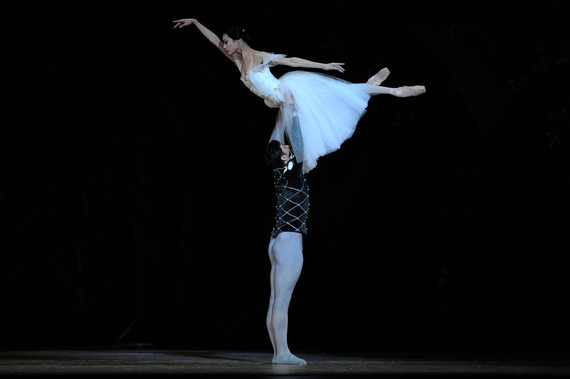 Davit Karapetyan and Yuan Yuan Tan in Helgi Tomasson's Giselle (Photo: Erik Tomasson)
San Francisco Ballet unveiled its latest Parisian import in Giselle on Sunday afternoon at the War Memorial Opera House, less than 24 hours after fielding a much-adored veteran in the same role in its season opener. With three more principal ballerinas poised to rotate through the iconic role through February 2nd, the fan clubs are buzzing.
Former Paris Opera Ballet soloist and newly minted SFB principal Mathilde Froustey gave a marvelously naturalistic performance on Sunday, as if born to dance the wide-eyed peasant girl with a heart of gold. Particularly entrancing are her piquant shouldering, supple torso, and million-euro smile. Distraught to learn that her fiancé was actually a prince who had been slumming it in the village, and who was engaged to a haughty noblewoman, she grabs his sword and drags it around the village square. At this performance, the sword's crossguard unexpectedly caught on her rival's sumptuous robes and ripped a prominent hole in her skirt. A felicitous accident that should become a permanent feature of Act I.
Transformed into a ghostly spirit in Act II, Froustey managed to appear lighter-than-air while still retaining the flesh-and-blood charms of an innocent young maiden, albeit a much sadder one than in Act I.
The evening before, Yuan Yuan Tan set the bar very high with her somewhat more high-strung interpretation of Giselle in Act I, her twisted mad scene, and her devastating Act II metamorphosis into an eerie, otherworldly creature.
A casting coup paired her with the gallant, impetuous Davit Karapetyan in the role of Giselle's faithless lover Albrecht, and faced her off against the glorious Sofiane Sylve in the role of Myrtha.

Yuan Yuan Tan and Davit Karapetyan in Helgi Tomasson's Giselle (Photo: Erik Tomasson)
Tan's performance is full of nuance. While besotted with Albrecht, who had disguised himself as the peasant Loys, her Giselle betrayed a slight unease from the outset, as if she sensed that he was not entirely on the up and up. Throughout, she softens her frame – which appears sharp and angular, even brittle, in more contemporary work – and anchors her movement with her heartbreakingly beautiful titanium insteps.
The true heart of this ballet, however, is not the delicate peasant girl gone mad, but Myrtha, the fearsome Queen of the Wilis. Sylve presents the full complexity of this character: a woman once wronged, who wields a terrifying power and metes out her own brand of justice, but is occasionally stirred to self-doubt. There is a fierce beauty to Sylve's implacable yet ethereal technique, a soft finish to her steely balances, a poetic pliancy in the upper body and in her softly bounding leaps.
Froustey was pitted against fellow newcomer Simone Messmer as Myrtha. This former American Ballet Theatre soloist – who has distinguished herself most recently in the work of Alexei Ratmansky – gave us an icy, sullen Myrtha, a one-note reading of the role, her strident interpretation and baleful expression …read more
Source: More Celeb News1