By johnseed@gmail.com (John Seed)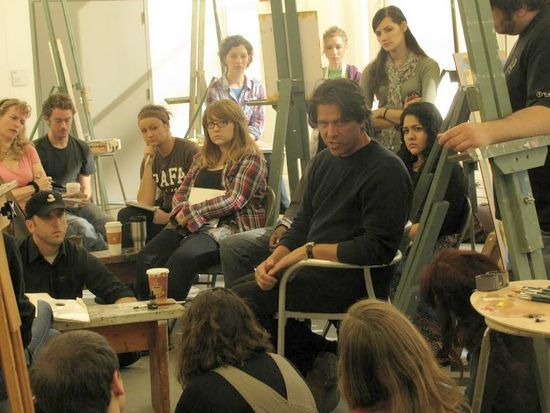 Vincent Desiderio, whose work is on view at Marlborough Gallery through February 8th, is a painter and critic whose works balance a cerebral, theoretical sensibility with powerful emotional cues. In particular, Desiderio's recent paintings incorporate notions of reificiation, a theory that refers to making something real or concrete despite an absence of evidence. The rich, heavily worked surface of the artist's paintings — and his interest in sculptural forms — demonstrate an engagement with materiality and process that vivify his ideas.
I recently spoke to Desiderio and was able to ask him about the sources and meanings of a few recent works and also about some of his key theories.
John Seed Interviews Vincent Desiderio
Vincent Desiderio teaching at the New York Academy of Art
One thing you talk about in relation to your work is reification. I'm starting to understand it – it's a process making something abstract concrete – but perhaps you can tell me more about it.
There is an ironic edge to the use of the work reification in terms of making paintings because for me a successful painting remains in constant motion; evoking a sense of the perpetual present tense of being. It remains open ended, thus facilitating the flow of artistic thought that is always and everywhere streaming through the history of painting.
However, painting's greatest strength lies in its stasis, its capacity to produce the coup d'oeil, the momentary freezing of this motion. Recently my work has taken on a density that underscores the materiality of the image, a move diametrically opposed to the screen image or the photograph. I see this as related to the radical materiality of Courbet and his Socialist concerns. My pictures now have a technical weight, and so, a palpable presence that I feel more comfortable with. I tend to dwell on the staging of the technical procedures so that visual information is emitted at varying degrees of intelligibility and speed.
From the start, I recognize that the real idea of the picture resides in the way materials are coaxed into meaning.
Vincent Desiderio, Transubstantiation, 2013
Oil and mixed media on canvas mounted on board, 68 x 111 inches
Courtesy of Marlborough Gallery, New York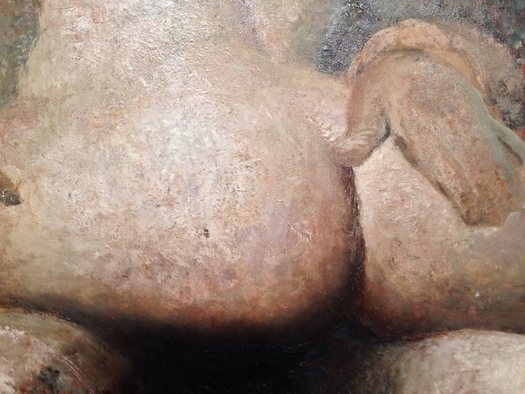 Surface detail of Transubstantiation: Photo – Thomas Wharton
The subject of sculpture comes up in your recent work: it is a subject that seems to lend itself to reification.
Yes, certainly. As subjects they lend themselves well to the way in which I want to paint. But all of the subjects that I paint are inextricably bound to the evolution of material manipulations; their organization constitutes a narrative in its own right. One might call it the technical narrative. This may or may not be at odds with its dramatic narrative ( the recognizable elements in my work that seem to be engaged in one activity or another). The sculptures in my paintings are frozen forms but are imbued with motion by the way they are contextualized by the …read more
Source: More Celeb News1