By John Seed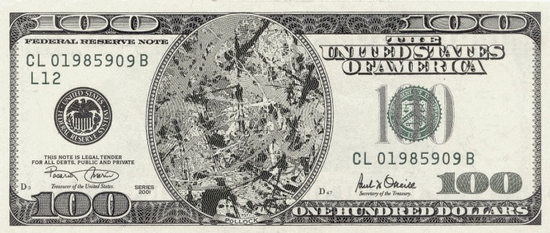 In Pollock We Trust: Digital collage by Photofunia.com
On November 12th of last year, Jackson Pollock's Number 16 sold for $32,645,000.00 at Christie's, New York. The 30¾ by 22¼ inch painting has a surface area of 684.1875 square inches, which means that it sold for $47,713.52 per square inch. To put this in context, the Median U.S. Household Income for 2012 was $51,017.00.
Just how did this Pollock painting — a rectangle of paper covered with skeins of enamel paint — come to be worth such a mind-boggling sum? It is a fantastic and vexing question isn't it?
I think there is a short answer and a long answer.
The short answer is that the figure of Jackson Pollock sits at the apex of a vast cultural construction: the currently accepted history of American art and culture. To explain how he got there, and how his work became a form of currency, requires a long answer.
Jackson Pollock (1912-1956), Number 16, 1949
Oil and enamel on paper mounted on masonite, 30¾ x 22¼ in.
Jackson Pollock, who was born in 1912, perfectly embodies a cultural myth that has fascinated and obsessed Americans — and those who have admired and/or envied American culture — since World War 2: the myth of the heroic individual creator. Over time, Pollock's legendary status has been woven very completely into the fabric of a media society that has built art and culture into a very lucrative business.
Pollock is an artist who is seen as the prime mover and innovator behind a new American style of art (Abstract Expressionism) that blossomed in this county in the aftermath of our nation's defeat of the Axis powers. America's triumph in the war, infinitely aided by our having developed nuclear weapons first, validated our obsession with progress and paved the way for an era of American cultural hegemony that has lingered strikingly.
Jackson Pollock led the American avant-garde — originally a military term — in its defeat and supersession of European culture. As we now know, Abstract Expressionism even had some CIA help in terms of becoming the representative style of American individualism and in turn confirming American exceptionalism. A new generation of critics, especially Harold Rosenberg and Clement Greenberg, made striking arguments for Pollock that helped him earn a lofty position in postwar America's rapidly evolving cultural Pantheon.
Before the war America's cultural superstructure already had been developing rapidly. The Museum of Modern Art was founded in 1929: the same year that seventeen year old Jackson Pollock moved to New York to study art. The growth of Pollock's career and the growth of the market for his work has coincided with the ascent of New York's status as America's — and arguably the world's — capital city of art and culture.
According to this informative chart — A History of New York's Gallery Districts — there were 140 art galleries in New York when Pollock arrived. There are now about 1500. …read more
Source: More Celeb News1